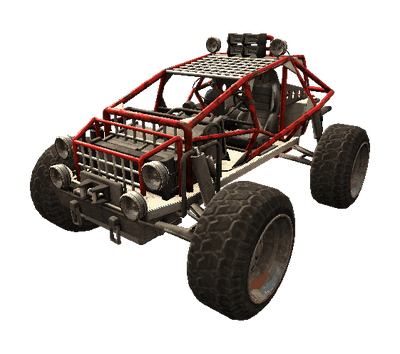 Warrior
Unlocked
Bonus Codes
Cost
N/A
Speed
Acceleration
Grip
Brake
Reliability
Asphalt
Off-road
A bonus vehicle included in the game via an unlock code
While the Knightmare (your first purchaseable SUV) has slightly better stats than the Warrior, performance-wise it's not all that better.
The Warrior handles lighter like a buggy while the Knightmare handles as if it has more weight (and a tad less response). The Warrior's speed tops out around the low 80's, making it only slightly slower than the Knightmare. Its acceleration seems snappier, but it also seems more drift-happy. This means it's a bit of a toss-up whether to use the Warrior or Knightmare, and really comes down to personal preference.
One area the Warrior shines is in hill-climbing, giving the Sabretooth a run for its money. While it crawls up slopes very slowly (but surely), it provides an early hill-climber until you can snag the Sabretooth.
Ad blocker interference detected!
Wikia is a free-to-use site that makes money from advertising. We have a modified experience for viewers using ad blockers

Wikia is not accessible if you've made further modifications. Remove the custom ad blocker rule(s) and the page will load as expected.