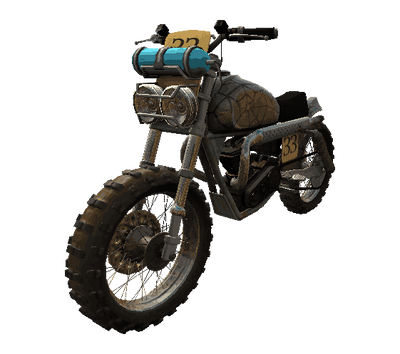 Tomahawk
Unlocked
Drownington Cove
Cost
Won (Tornado Warning)
Speed
Acceleration
Grip
Brake
Reliability
Asphalt
Off-road
Max Speed
100mph
The Tomahawk isn't a bad bike, it's just out-classed by others by the time you get it
It's "jack of all trades master of none" features means it doesn't excel at anything, and even hinders it at times.
It corners slowly like a street bike on and off road, which makes hair-pin turns annoying. Its top-speed is out-classed by street bikes (and the Shuriken). And it's off-roading capability is lackluster compared to the Shuriken. Only reason to use it is if a race forces you to (and, sadly, there's several unforgiving ones that do).
Design looks a lot like Triumph's Rumbler / Scrambler series, except a single-stroke (cylinder/piston), probably in the 250cc range. Has that old-school (40's / 50's) Indian, Triumph, Harley Davidson dual-sport look to it.