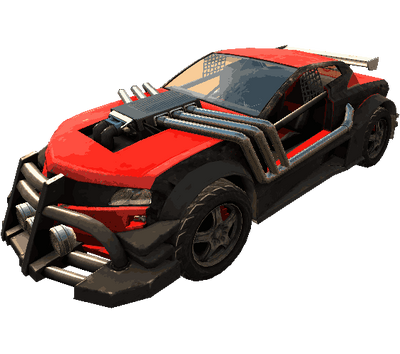 The Bullet
Unlocked
Offshore Shack
Cost
1215
Speed
Acceleration
Grip
Brake
Reliability
Asphalt
Off-road
Your first unlocked muscle car
The good ... Fast (for an early vehicle ... almost 110mph on asphalt), good looks
The bad ... it's weight and lack of grip make it more than a handful in the corners. Tapping the turn keys will let you run down minor curves, but tackling any serious 90 degree turn or hair-pin will require you to slow down to 1/2 speed (40-50mph) to go into a manageable drift without overshooting the corner.
The ugly ... because of it's love of long-drifting at high-speeds, if you can't anticipate a sharp turn up ahead you'll probably overshoot it and go sliding off into the weeds or spend precious seconds spinning your tires on the shoulder of the road trying to get going again.
You're forced to use this on several challenges at the Offshore Shack zone, so you need to master the "slow down to 1/2 speed to corner" maneuver with it. But, for career races where you can choose other vehicles it's recommended to go to Tsunami Reef and unlock the Wild Wolf maverick as soon as possible.
It somewhat resembles the 2010 Chevrolet Camaro.
When you combine this car and DrowningTown Cove's Asphalt Frenzy Career race,
you get yourself a awesome drifting experience!
Ad blocker interference detected!
Wikia is a free-to-use site that makes money from advertising. We have a modified experience for viewers using ad blockers

Wikia is not accessible if you've made further modifications. Remove the custom ad blocker rule(s) and the page will load as expected.