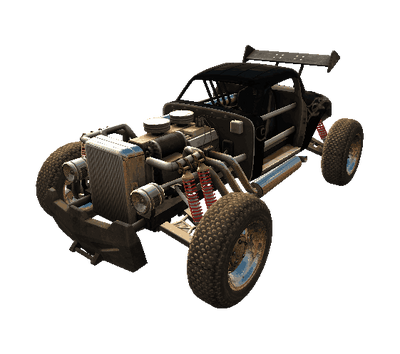 The Bandit
Unlocked
Dustbowl City
Cost
85780
Speed
Acceleration
Grip
Brake
Reliability
Asphalt
Off-road
Your second off-road muscle car next to the General Custer.
While billed as an off-road vehicle, it handles more like a mixed-road buggy. It has good acceleration and speed, but is mired down with a tendency to "hunt" along the road at random when it hits bumps and grooves. (Perhaps this is to immitate the light-weight front-end). On asphalt it twitches side to side at the slightest turn, and on dirt roads it will veer different directions when hitting bumps, the shoulder of the road, etc. All of this makes it a pain to keep under control, and negates its top speed as you'll be letting off the gas too much to get it back under control. Off-road performance is better than most muscle cars, but that's like saying a kick in the nuts hurts less than a boot to the teeth.
Essentially, for the amount of FUEL you have to pay you get a very lackluster vehicle in return.
Somewhat resembles a 1932 Ford Model B, except chopped into a single-seater hot rod / rat rod with most of the bodywork removed to save weight and allow for faster speeds.
Ad blocker interference detected!
Wikia is a free-to-use site that makes money from advertising. We have a modified experience for viewers using ad blockers

Wikia is not accessible if you've made further modifications. Remove the custom ad blocker rule(s) and the page will load as expected.