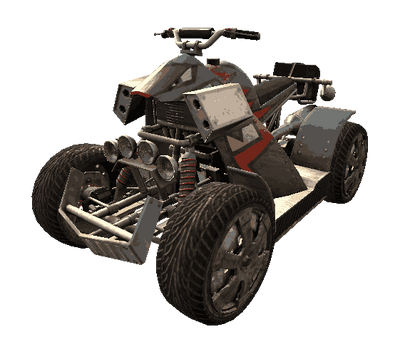 Steelfang
Unlocked
Redrock Bluffs
Cost
Maverick
Speed
Acceleration
Grip
Brake
Reliability
Asphalt
Off-road
Max Speed
130mph
Facts & Tips
Edit
The Steelfang is a beast on asphalt and dirt roads, combining good handling with an insane acceleration & top speed to become your mid-game, mixed-road racing champion
Transitions between asphalt & dirt roads are seemless, and while a high momentum can skate you across short stretches of off-road (or longer stretches if downhill), don't linger or you'll find your performance greatly drops.
Has very tight handling and cornering. Due to this, drifting can be challenging especially on asphalt so remember to use the handbrake to go into a drift
As a Maverick, this is a must-have, but chasing it down can be a pain. If you try to follow it on the roads you may find it hard to catch up to. So, use an off-road vehicle (Shuriken, Dustgrinder, Komodo), and cut it off at the pass with short-cuts through the weeds.