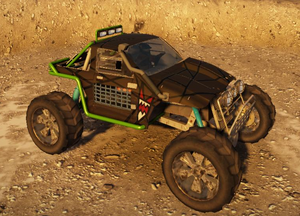 SUVs (Sport Utility Vehicles) are mostly off-road vehicles and come in all shapes and sizes (from 4x4 to 6x6). These vehicles are great for exploring for Liveries, Vista Points and Challenges due to their moderately fast speed, and ability to 'climb' just about any slope in the game. Right up the side of a mountain for instance.
A unique (albeit useless) feature of some SUV's (mostly the off-roading ones) is the long pipe coming out of the hood to the roof. That's an air intake, which (in real life) would let them submerge in various depths of water without stalling the engine. In FUEL, however, any vehicle can seem to submerge up to a certain point safely (usually up to or over its roof) before "crashing".
Hold down shift to sort by multiple columns
Ad blocker interference detected!
Wikia is a free-to-use site that makes money from advertising. We have a modified experience for viewers using ad blockers

Wikia is not accessible if you've made further modifications. Remove the custom ad blocker rule(s) and the page will load as expected.