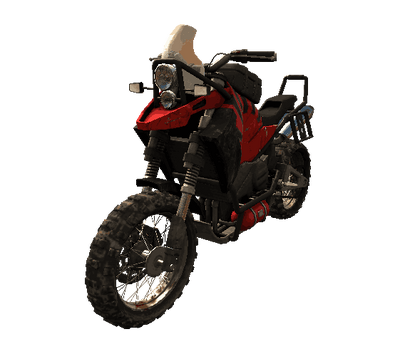 Mechahead
Unlocked
Redrock Bluffs
Cost
33830
Speed
Acceleration
Grip
Brake
Reliability
Asphalt
Off-road
A solid, multi-purpose bike with good grip and speed on any surface. Unfortunately it's mired down with slow leaning & delayed drifting. This can make tight turns a chore to perform on circuit races. While it shines in Endurance-style check-point races, usually you'll switch over to the Dustgrinder or some other off-road alternate instead. So, while not a bad bike, it's jack-of-all-trades (master of none) status means it's out-shined by specialty asphalt & off-road bikes in the same caliber.
Heavily influenced by large-motor (750cc+), adventure-touring bikes, like Suzuki V-strom, KTM Adventure, and BMW F800. It's got the mounting brackets for a set of hard-case panniers, a tank bag and everything else you'd need for a trip across Africa in the Dakar Rally!
Ad blocker interference detected!
Wikia is a free-to-use site that makes money from advertising. We have a modified experience for viewers using ad blockers

Wikia is not accessible if you've made further modifications. Remove the custom ad blocker rule(s) and the page will load as expected.