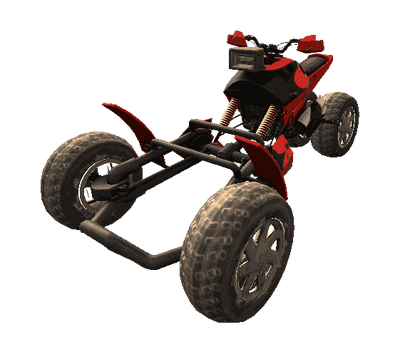 Deathwing
Unlocked
Tsunami Reef
Cost
4410
Speed
Acceleration
Grip
Brake
Reliability
Asphalt
Off-road
This ATV is considerably faster than it says. It is a phenomenal ATV.
Grip is reasonable, (better than some of the off-road ATV's you get at the same time in the game), and it's drifting capability is tight and easy to control.
Not as good off-road as pure off-road ATV's, but off-road performance is very forgiving when taken at high speed and for short stretches.
Since it's a mixed road vehicle, hill climbing capability is a bit lackluster compared to other ATV's.
The Deathwing is a reverse-trike setup, even though, it has four wheels, which while uncommon, is seen mostly in motorcycles, ATV's and buggies.
Ad blocker interference detected!
Wikia is a free-to-use site that makes money from advertising. We have a modified experience for viewers using ad blockers

Wikia is not accessible if you've made further modifications. Remove the custom ad blocker rule(s) and the page will load as expected.