Dead Lady's Lake
Stars needed
~72
This lake is said to be haunted by the ghost of a dead lady that would've drowned there on a night of full moon... Not quite sure this is any spookier than all that nuclear waste they poured in the pond, though.
Career Stars
9
Challenges
10
Vista Points
5
Vehicle Liveries
7
Doppler Trucks
3
Bonus Car(s)
-
Chasing the Lady's Ghost
Checkpoint Race
28 Checkpoints
Mostly Dirt roads
Rewards: 6580 Fuel per skill level, Flame Soft Jacket, Vista Doppler
Scarily, it finishes on the lake
A wrecked boat and two offshore structures which may be oil rigs are visible in the water at the end of the course. For some reason, they are not permenant features of the world, but are 'props' which dissapear once the race is over, much like the barriers and the parked trucks along the course.
Peaks and Water
Circuit / Lap Race
Mixed Motorcycle&ATV's
Dirt & Asphalt Roads and Off-Road Terrain
Highway to the Lake
Checkpoint race
On-road and mixed road Buggy race
Mostly roads
Rewards: 6260 Fuel per skill level, Patched Long Sleeve T-Shirt, Liveries Doppler
The race starts off on a short dirt section, drive off the edge instead of turning right for a shortcut jump over a corner onto tarmac and to the first checkpoint. Drive to the left of the road and avoid the first ramp, the AI drivers will take it and lose speed allowing you to overtake them along the straight road section. Checkpoints 1-7 are on a winding mountain road with no shortcuts but where some corners can be cut. Checkpoint 8 is a handbrake turn switchback towards a dirt road leading to Checkpoint 9 before a jump back onto paved roads. Checkpoints 11-14 are on an uphill dirt road section where it is the best chance for mixed-road buggies to overtake the road buggies. Checkpoint 15 contains a ramp which is a shortcut jump onto the final dirt section, disregard the GPS arrows and turn blindly to the right as the ramp is not visible under a crest in the road. The course ends with a sprint to the finish on tarmac.
Blitz
Chopper Chase
Bone Crusher monster truck
Checkpoint Race
Checkpoint Run
Endurance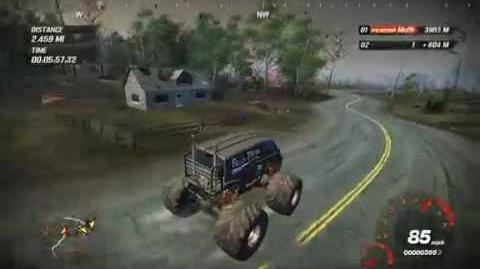 The Bullfrog monster truck
Knockout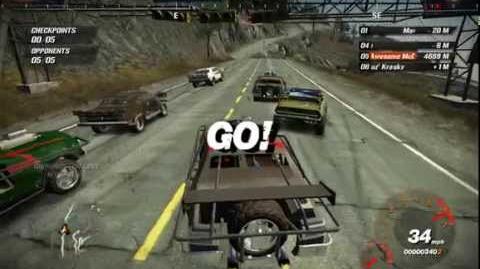 Raid
Seek'n'Destroy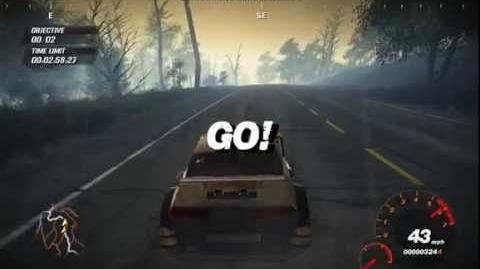 Speed Run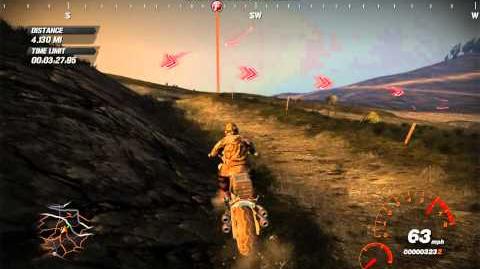 Wild Track
General Info