Chaos Bridge
is a
Vista Point
in the zone
Stargazers' Heights
. There is a large bridge in the northwestern portion of the zone, with the Vista Point providing a view of the fractured bridge. This is possibly based off of the Royal Gorge (located in Colorado, it held the record as the world's highest bridge from 1929 through to 2001), due to the geographic setting of the game.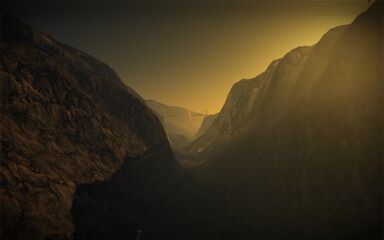 While the drop is nowhere near close to the height of the bridge spanning the Grand Canyon in
Redrock Bluffs
, it is still a
very
sizable fall. Also, there is a large fracture in the centre of the bridge, with a ramp either side allowing the ability to cross from each way. It is recommended to use a fast, powerful vehicle, such as most
Muscle Cars
,
SUVs
,
Bikes
,
ATVs
, and
Buggies
. Despite this, There is a bug where if you don't make it across the jump when you are falling you go past Terminal Velocity which is 125 MPH and the two worst vehicles for doing this are
Twin Freaks
, and
Mosquito
. When Jumping a bike like the Afterburner be careful when you land because you can wreck after the landing because of the bike's weak strength. And also this is one of the only places that the
Mysterious Trucks
don't drive around possibly because of the fracture in the bridge. Some of the offroad vehicles like General Custer have no problem jumping the bridge.
Ad blocker interference detected!
Wikia is a free-to-use site that makes money from advertising. We have a modified experience for viewers using ad blockers

Wikia is not accessible if you've made further modifications. Remove the custom ad blocker rule(s) and the page will load as expected.