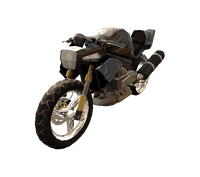 Maverick vehicles are unlocked in various zones after winning certain Career Races. They show up on your map as purple triangles

.
Since some of them are fast, your best bet is to get close to them via the nearest helipad, then pick your best off-road vehicle to cut cross-country and head them off. Check your map periodically, though, as they love to change direction. Once you close in, their icon will appear on your GPS. Then it's just a matter of closing in. Once you ram them, you get the vehicle added to your stable.
Mavericks are worth chasing down, because they usually provide a better alternative to vehicles you can purchase, some Mavericks staying competitive longer than even new vehicles you unlock later.
Trending pages
All items (12)