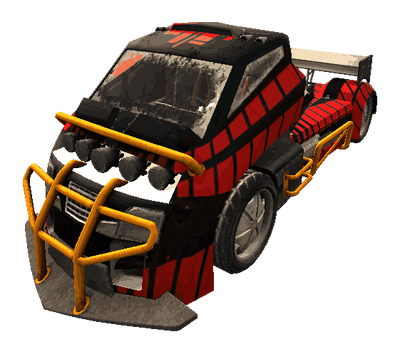 Barracuda
Unlocked
Dustbowl City
Cost
90900
Speed
Acceleration
Grip
Brake
Reliability
Asphalt
Off-road
Modelled after the FIA European truck racing machines. Even though this truck is not as powerful as its real life counterparts (some real engines make as much as 1500hp), it is still the fastest asphalt truck you can find in the game.
The problem is that's it's very difficult to control. Even though you stop pressing the turn keys, it wants to keep on turning! So, you end up over-turning all over the place, making it very difficult to keep on course. That means all that speed is about as useful as a tick on a dog's ass, since you can't stay on the road long enough to use it.
Ad blocker interference detected!
Wikia is a free-to-use site that makes money from advertising. We have a modified experience for viewers using ad blockers

Wikia is not accessible if you've made further modifications. Remove the custom ad blocker rule(s) and the page will load as expected.