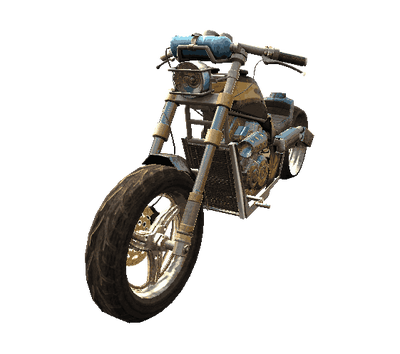 One of the two "Chopper" styled bikes, the other being the Cheyenne, this travel bike is a big upgrade to the Easy Rider
Has insane acceleration and great top speed, able to reach over 100 mph in seconds upon accelerating, unfortunately this makes it a very difficult to go through a series of quick turns
Has the same standard problems with all other travel bikes with sluggish turning and too much grip for hairpin turns
Like all street bikes, it prefers to hug asphalt corners rather than drift around them
As with all street travel bikes, the heavy weight and strong grip ensures good performance on larger dirt roads, but no speed or grip while off-road
Another "American Custom Classic"-styled cruiser in the 750cc range with a bobbed tail and fat back tire
Ad blocker interference detected!
Wikia is a free-to-use site that makes money from advertising. We have a modified experience for viewers using ad blockers

Wikia is not accessible if you've made further modifications. Remove the custom ad blocker rule(s) and the page will load as expected.