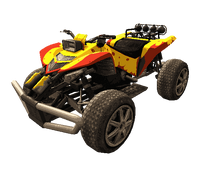 ATV's (All-Terrain Vehicles) tend to be the "mountain goats" of the game, as their hill-climbing capability is on-par (if not sometimes exceeding) the SUV & truck classes. Their 4 wheels offer more stability than the bikes, but it also means they want to drift/slide instead of corner like bikes. Their size allows them to navigate very narrow spaces, but their durability makes it hurt if you hit something.
Hold down shift to sort by multiple columns
Ad blocker interference detected!
Wikia is a free-to-use site that makes money from advertising. We have a modified experience for viewers using ad blockers

Wikia is not accessible if you've made further modifications. Remove the custom ad blocker rule(s) and the page will load as expected.